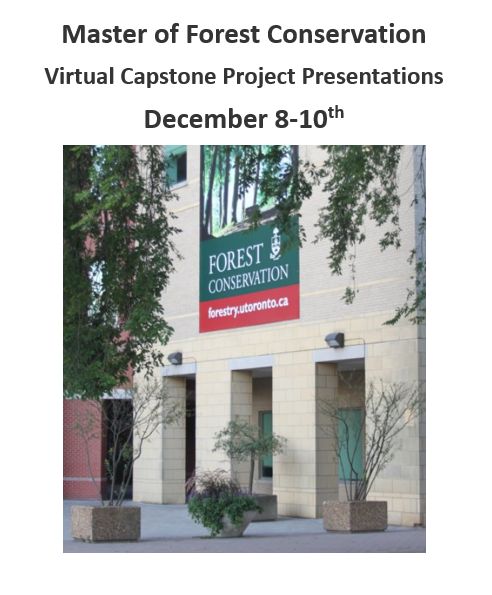 Master of Forest Conservation Virtual Capstone Project Presentations
Tuesday, December 8th to Thursday, December 10th
Zoom
If you're a student in forestry, architecture, or landscape architecture, or if you're a member of the public with an interest in ecological management, you are invited to attend our virtual Master of Forest Conservation capstone presentations. Each MFC capstone will include a 15-minute presentation followed by a Q&A.
This year, the capstone projects include discussions on urban forestry, mass timber, spruce and jack pine budworm, remote sensing, silviculture, forest policy, dendrochronology, and wildfire and invasive species management.
The meetings will be hosted virtually over Zoom and will run from 10 a.m. on Tuesday to 2:15 p.m. on Thursday. All are welcome to attend!
Zoom links:
Use the meeting password "Forestry" to join.
Download the detailed presentation schedule here.