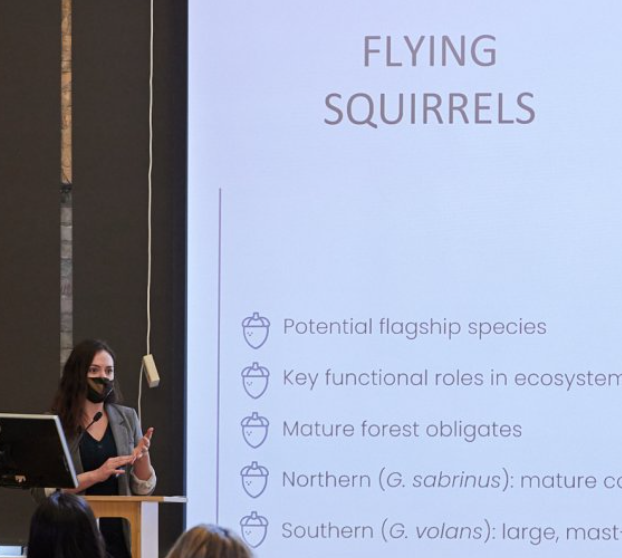 Forestry's first hybrid Capstone presentations showcase diverse range of student research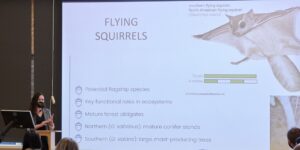 The need for more green space in low-income urban settings. How Indigenous knowledge can benefit contemporary forestry. The history and future of China's eucalyptus trees.
These were just a few of the wide range of subjects elucidated during the 2021 Capstone presentations by students in the Master of Forest Conservation (MFC) program. Held on December 14 and 15, the hybrid presentations took place in person at 1 Spadina Crescent for students and examiners, with external audience members joining in virtually.
A total of 22 MFC students individually presented their work, the projects organized under the themes of forest management, forest health, monitoring, policy, wildlife, mass timber and urban forestry.
"The hybrid format allowed a broader range of external examiners, from places like Oregon and Barcelona, who would not have been able to participate if we were 100 per cent in person," says Professor Patrick James, the Capstone course coordinator. "The success of this first hybrid presentation event has potentially opened doors for broader participation in the future."
The 2021 presentations showcased a diverse mix of issues and case studies. Aditi Chanda's Capstone project, for instance, focused on the harvesting impacts of Indigenous traplines on marten habitats in northeastern Ontario. Through her presentation, she demonstrated why it is critical for Indigenous knowledge to be woven into forestry.
"It is important to focus on Indigenous perspectives not just because they had been silenced, but because they provide generational knowledge of concepts that are championed in forest management today, such as sustainability or adaptive management," Chanda says. "Given the often-fraught relationship and history between First Nations and the Canadian forest industry, I firmly believe it is irresponsible for us to do otherwise."
During his presentation, James Marcucci discussed how social housing can be spaces for urban forest stewardship. "There is a measurable inequality of urban tree-canopy cover in Toronto neighbourhoods that is directly related to median household incomes," he says. "Non-profits like Local Enhancement and Appreciation of Forests (LEAF) have identified this issue and are partnering with the City of Toronto to empower Toronto Community Housing tenants to plant and steward trees in their communal green spaces."
Qinyu Chen, meanwhile, spoke on the history of eucalyptus trees in China, the importance of having species diversity there, and how this could be achieved through the planting of three alternative eucalyptus species. "Globally, China ranks first in plantation area, of which eucalyptus is the most widely planted tree species," Chen says. "Making even small improvements in terms of diversity will have a significant impact on the whole timber industry and country."
Chen had the unique experience of working at two different universities for his Capstone project: Nanjing Forestry University (NJFU) in China and the University of Toronto in Canada.
"It was great taking part in two different programs: earning lab experience at NJFU and theories knowledge through the course-based MFC program here at the Daniels Faculty," he says.
"Having gone through the majority of the program in a COVID-required virtual format," James concludes, "the class of 2021 deserves particular recognition for its perseverance and resilience."
Dean Juan Du adds: "I was able to attend some of the presentations and was truly impressed by the range and depth of the students' research. I am excited to see how this future group of forestry leaders will shape their fields in the coming years."