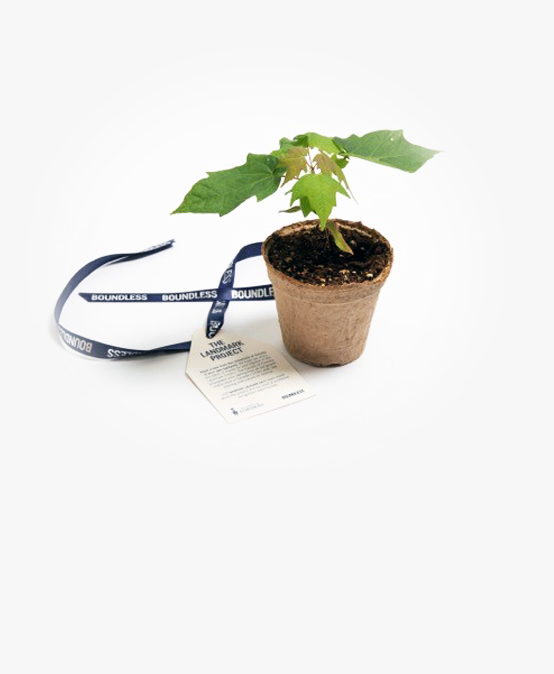 Propagating Canada's 150th Birthday Tree
The Faculty of Forestry's Prof. Sandy Smith, Prof. Sally Krigstin, Eric Davies and Alex Stepniak are working diligently to propagate all of Toronto's native heritage trees which means breeding plant specimens by natural processes from the parent stock. Last year in honour of Canada's 150th birthday year, maple seedlings were collected and are being specially grown in Biopots which were donated to the project by Natures Affinity Inc., a U of T spinoff company that creates innovative material to meet special product and packaging needs in the horticultural and produce industries. The Biopot is made entirely from recovered plant components and is USDA certified 100% Biobased. This project is supported by Natural Resources Canada's Investments in Forest Industry Transformation (IFIT) program.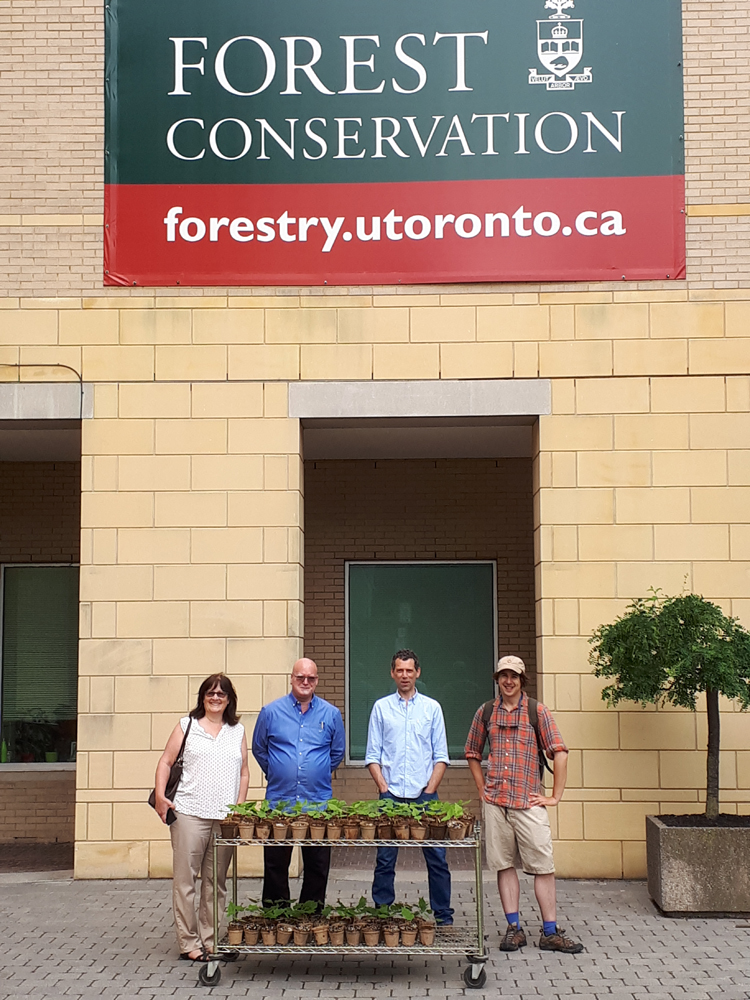 Prof. Sally Krigstin, Dean Robert Wright, Eric Davies & Alex Stepniak
The Faculty is actively involved in the University's Landmark Project which plans to reclaim the St. George Campus core for pedestrians by building a network of people-centric plazas, pathways and gardens transforming the downtown campus into a greener, more accessible and socially dynamic landscape while preserving the heritage and legacy of the grounds. During this year's Alumni Reunion events, the Landmark Project and Forestry teamed up to promote both projects by giving away Biopots containing the special maple trees saplings native to Toronto. U of T's alumni members enthusiastically accepted the gifts with plans to plant the saplings in their own backyards.

---
For more information on the Faculty's propagation project, please contact:
Prof. Sally Krigstin, sally.krigstin@utoronto.ca
Eric Davies, eric.davies@utoronto.ca
Alex Stepniak, a.stepniak@utoronto.ca