CONSULTANT'S REPORTS
Read the consultants' reports that we have commissioned below.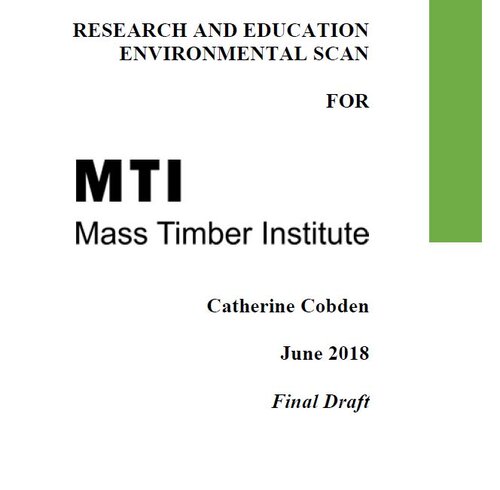 MASS TIMBER INSTITUTE RESEARCH & ENVIRONMENTAL SCAN
By: Catherine Cobden • 2018
This environmental scan was conducted to support the exciting potential of the Mass Timber Institute (MTI) to stimulate the mass timber market in Ontario. This scan also provides a current snapshot of existing research and educational training, as well as governance structures and rules, while identifying areas for improvement. The research included detailed interviews conducted between March and May, 2018 with a wide variety of industry participants. They expressed a great deal of enthusiasm for the MTI and its vision.
---
OPEN-ACCESS READING
We've done some of the searching for you! Check out some of these open access publications and reports from third-parties below. We were not involved in any of these publications but think that they are all worth a read. The list is a work in progress so if you would like something added to or removed from the list, let us know.
RESEARCH LIBRARIES
INDUSTRY REPORTS
GUIDES AND STANDARDS
GOVERNMENT PUBLICATIONS
JOURNAL ARTICLES
IN THE NEWS
October 23rd 2022 – 10 Reasons To Build With Mass Timber
Are you considering using mass timber as a structural system for your next building project? If so, check out the article co-authored by our MTI Leadership Chair, Craig Applegath Architect, along with Daria Khachi P.Eng and Franco Piva Eng. Titled: 10 Reasons to Build with Mass Timber, the article builds the case for mass timber while pointing out things to be mindful of when using it.
July 2022 – Element5 Affordable Housing Solution
Element5 has produced prefabricated mass timber building components to address affordable housing needs. Renewable, sustainably harvested wood is the primary material for the mass timber, which sequesters carbon through its use as a building material. The process of creating prefabricated panels in a controlled environment off-site before assembling onsite results in safer and faster assembly. In turn, the projects built using these components can be more cost efficient. Exposed mass timber provides biophilic health benefits for occupants inside. Responding to the diverse programmatic needs of housing projects, the structural grid can adapt to buildings of various sizes. In July 2022, the Affordable Housing Solution was applied to the rapid 20-day construction of the YWCA. See the time-lapse here: