The MFC program is course-based, which means course-work forms the majority of the requirements to obtain the degree.

Full-time students complete the program in 16 months.  Extended full-time students (EFT) are allowed an extra year to complete the program (28 months), while paying the same academic fees as regular full-time students.  EFT students do however pay full-time incidental fees for each year of registration.  It can be noted that EFT students will pay the same academic fee as full-time students, even if they complete their program early. EFT option students must complete FOR 3000H, FOR 3001H, and FOR 3012H in their first session. The remaining MFC course requirements can be completed in any order except that FOR 3007H must be taken in the final Summer session and FOR 3008H must be taken in the final Fall session.

Part-time students will work with Faculty staff to build an appropriate schedule.

The start date for all program options is September.
---
An eight-day field camp in Haliburton Highlands kicks off the program in September. It provides an introduction to the issues and principles of forest conservation, and includes intensive data collection and identification of different taxonomic groups.
Students enrolled in the program full-time will take nine core courses (listed below) over the first two sessions of the program (September to December, and January to April), and usually one elective course in the second session (January to April).
In the summer, students are expected to attend a field course – either the international field course offered by the faculty that year, an urban forestry field course to more local destinations, or in unusual circumstances, alternate eligible field course. 
A mandatory internship component is completed over the summer, and the final fall semester is taken up with one final core courses, elective courses (as needed), and the completion of a capstone project, often related to or generated by the student's internship.
---
---
Course Roadmap (Full Time)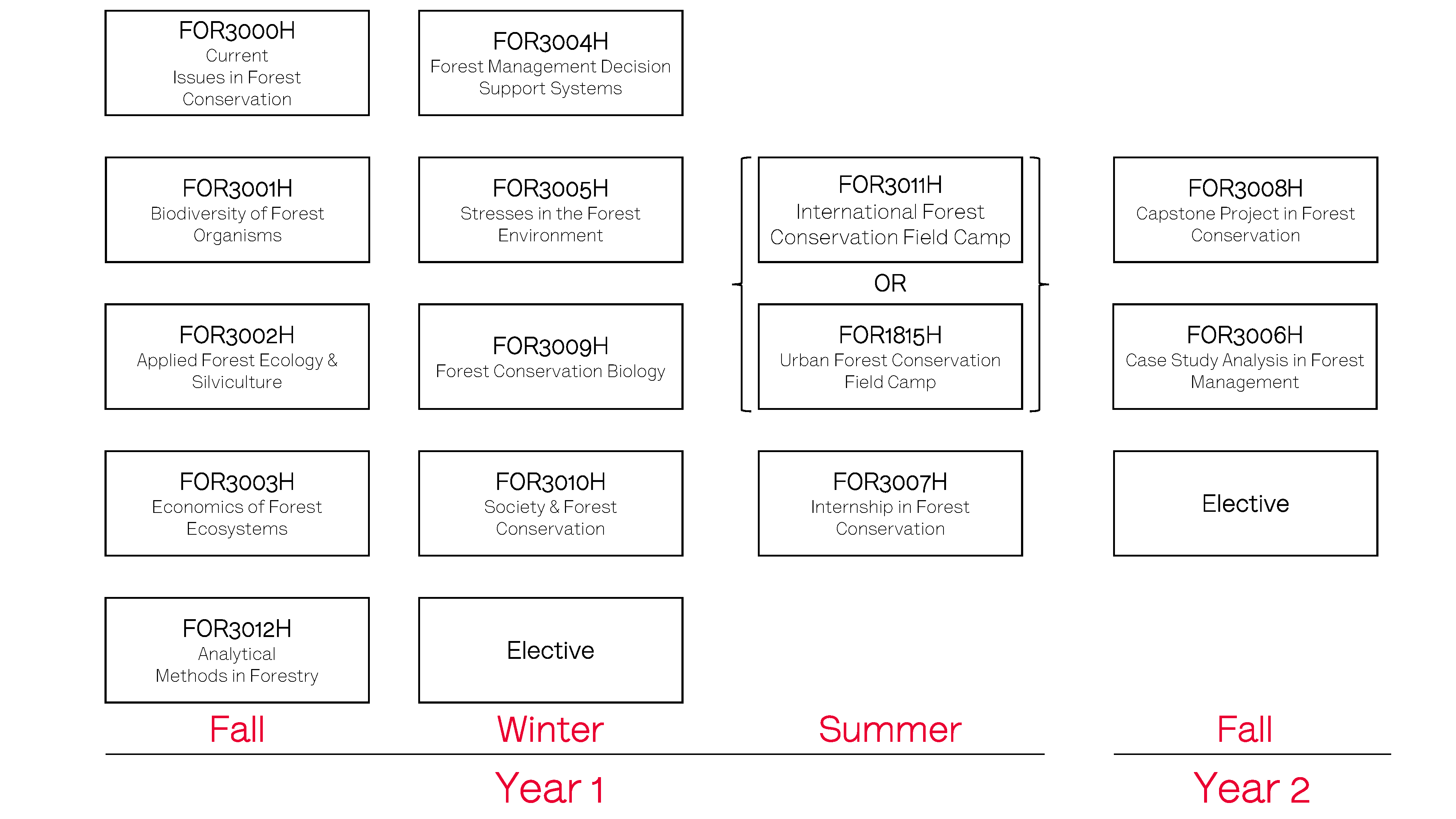 Note: Students may take elective courses in any session of the program.
      View all Forestry courses
---
Related Links:
---